Surveillance Systems

Discount Telecom can provide and install a security surveillance system to your office or building. In most cases this will comprise of a number of mounted cameras or camera domes that are linked to a control unit with monitor. The control unit is located in your office or building and can be accessible from selected PC's but also remotely via the internet on your smart phone or tablet. Cameras can be located both indoors and outside.
Our technical staff can install the complete solution for you including the mounting of the cameras, wiring and the set up of the control unit. Our networking department can configure your firewall for remote internet access.
Recording
The control unit (NVR) can be set to record from all of your cameras concurrently to a built-in hard drive. Recordings can be transferred using file transfer protocol (FTP) or saved to a DVD-R or flash drive. Control units can manage up to 4 cameras for the base selection or up to 32 cameras at the higher end of the model range.
Cameras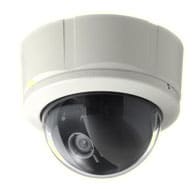 There are many camera options to choose from. There are high definition versions (HD) and most of them are IP based. Some have up to 36 x times zoom lens capability with weatherproof cases including fans and heaters for outside use. Some cameras have zoom functionality, the ability to record sound and built in web servers for when a control unit is not needed. Many cameras can operate in both day and IR night mode (using infra-red technology), although in some cases, a movement activated flood-light is helpful as this can deter a potential intruder from making an attempt in the first place.
Video Management Software
The software that is provided with control units displays the output from all your cameras (up to 16 frames per second) and allows you to focus on one camera or to see all of them. Alarms (and recordings) can be configured when a camera detects motion and alerts can be sent if there is a problem with the feed due to a fault.
If you are interested in finding out more information on how a surveillance camera system would benefit you, please contact our office and we would be happy to discuss this with you in more detail. A site survey visit can take place to establish your security needs including the location of the cameras. A priced proposal can then follow for your consideration.