Structured Cabling
Discount Telecom can provide and install phone and data cabling for your organization, whether it is just for a few cable runs or to wire an entire building. Our team of cable installers have many years of experience installing cable to professional standards.
A range of cabling is available including Cat.3, Cat.5e, Cat.6 UTP, Plenum, Co-ax, speaker-wire and fiber optic cabling.
Discount Telecom is a Leviton Certified Cabling System Partner and meets the Leviton CCS Lifetime Applications Assurance & Lifetime Performance Warranty standard. This is your guarantee of a verified, professional cable installation.
Fiber Optic Cabling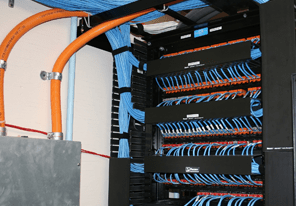 Where distances over 328 feet (100 meters) are needed, or when cable needs to be run outside, fiber optic cabling is the cable of choice. We supply, install, terminate, test and certify the fiber ourselves and can provide all the necessary hardware to link the fiber together both for 100 Base-T speeds and Gigabit. When needed, we provide protective casing/conduit for the fiber which can then be installed underground. Junction boxes to terminate the fiber are provided when needed including a wide range of fiber patch cords for ST, SC and LC based connections.
Cabinets
Both wall mounted cable cabinets and floor standing cabinets of various sizes can be provided to house your data cabling and networking hardware. Many of our larger installations are to dedicated floor standing racks and include wire management systems and ceiling trays.
Cable Signal Quality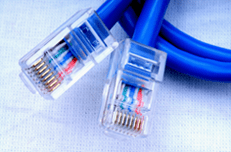 Part of a certified installation involves the recording of the quality of the signal from a cable analyzer (near end cross talk and attenuation etc) and this information provides not only assurance the cabling installed meets standards but it can either be certified by Discount Telecom or sent to Leviton for official certification.
A typical office wire project will include the installation of a numbered cable patch panel and color coded data and voice wall outlets. We can then patch cables to connect to your existing switch, or provide a new one for you with a suitable number of ports.
When you need cabling work to be performed, call Discount Telecom for an estimate.